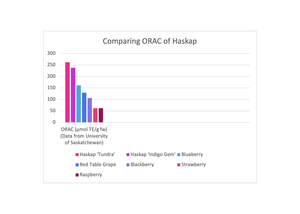 Health Benefits of Haskap
ORAC (Oxygen Radical Absorption Capacity) measures the total antioxidant capacity of food. Antioxidants neutralize free radicals. Free radicals are unstable atoms that can damage cells, causing illness and aging. Free radicals are produced in the body naturally as a byproduct of metabolism and by inflammation and exposure to environmental toxins.
As shown on the graph, the nutritional value gained from eating haskap berries is significant! The daily intake of antioxidants is 11,000 units. There are 21,000 units in just 100 grams (½ cup) of haskaps!
Haskaps have been known by the ancient Japanese as the 'fruit of long life and good vision". They have also been used in traditional medicine for thousands of years by the Russians.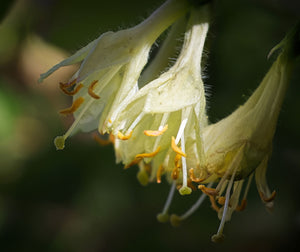 Cancer Research
At Dalhousie University in Halifax, Nova Scotia, Dr. Vasantha Rupasinghe and his team have been studying the health benefits of haskap since 2012. They are also interested in this berry due to its high antioxidant and anti-inflammatory properties. They claim these features would make them anti-cancer, anti-diabetic, neuroprotective and cardio-preventative since low-grade chronic inflammation leads to chronic diseases such as Alzheimer's, cancer, diabetes, cardiovascular disease, and arthritis.

What they discovered is that haskap supplements suppress carcinogen induced lung tumorigenesis in mice, when compared to the placebo group. They have also found that haskap berries improve glucose homeostasis and insulin sensitivity in diet-induced obese mice.

Further studies are being conducted on the chemo-preventative effects of dietary anthocyanin (the antioxidant high in haskap) against gastrointestinal cancers such as colon cancer using the haskap berry.

The greatest challenge today is getting the funding required to conduct further research and create human trials.

If you are interested in reading Dr. Rupasinghe's research papers, please contact Amber.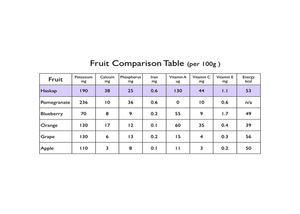 SUPER BERRY
Not only are haskaps full of antioxidants and other beneficial bioactives, they also contain a significant amount of vitamins and minerals; even when compared to blueberries!

(Mineral and vitamin comparisons of fruit from the Resources Council of Science and Technology - Japan).